$39.57 + 15% HST ($45.50)
Our Seaweed Gin, made using seaweed (dulse) harvested from the Grand Banks. Slightly salty, full of juniper, it is like being in an ocean mist, next to a herb garden and is the savoury (flavour wise rather than herb wise) companion to our Cloudberry Gin.

This gin was awarded a double gold medal at the San Francisco World Spirit Competition in 2018, a silver medal at the 2018 Canadian Artisan Spirit Competition and a gold medal at the 2020 New York Spirit Awards. It was also chosen as the Best Canadian Contemporary Gin at the 2021 World Gin Awards.
  750ml, 40% alc/vol.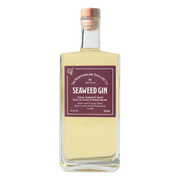 Seaweed Gin