Gunpowder & Rose Rum & Cola
Our Gunpowder and Rose Rum with a classic cola - this is the drink we all drink. The rum blends perfectly with real cola flavours. Fantastic, straight from a chilled can and is also superb over ice with a squeeze of fresh lime.

4 X 355ml. 6.7% ABV.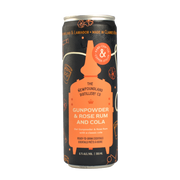 Gunpowder & Rose Rum & Cola