For the first time, Bitters are being sourced, made and bottled in Newfoundland and Labrador. The botanicals are all foraged and harvested locally, using ingredients native to the province. 
Cloudberry Bitters
Grain alcohol, Newfoundland cloudberries & honey

These hand crafted bitters capture the essence bakeapples (Cloudberries), hints of citrus and a little bit of the barrens for a pure exampe of Newfoundland Terroir. Ideal bitters for classic gin and vodka based cocktails.
Shipping
Shipping for all Bitters is flat rate a $7.50 (up to 9 bottles) with Canada Post or free when purchased with a bottle of spirits.
We can ship our Bitters across Canada, except in Newfoundland where they are available at the distillery shop in Clarke's Beach and at NLC stores.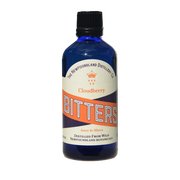 Cloudberry Bitters