$39.57 + 15% HST ($45.50)
This gin is full of juniper and cloudberry (bakeapple) picked from the wilds of Placentia Bay, with a little savory from Mt Scio. We've tried to keep if very pure and simple using only local botanicals. This one is a little fruity, the cloudberries giving it a few citrus notes which balance out the juniper.

Our Gin won a silver medal at the San Francisco World Spirit Competition in 2018 and a silver medal at the 2020 New York Spirit Awards.
Our Cloudberry Gin also won a silver medal with distinction at the
2021 Canadian Artisan Spirit Competition.
  750ml, 40% alc/vol.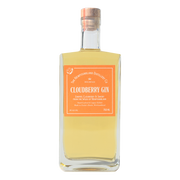 Cloudberry Gin